If you're a pet owner and you have to go abroad or travel a long distance domestically, it's very likely that you are going to want to bring your pet with you. Most people share very strong bonds with their pets, so leaving them at home in somebody else's care can cause them a lot of anxiety.
However, bringing your pet along with you for a long-distance journey can be very stressful, especially if you're not properly prepared. This article will tell you the tips and tricks on how you can prepare so that when you take your pet abroad or on a long journey, it's as stress-free as possible.  
Why Travel With Your Pet?
There are some very good reasons why people bring their pets with them on vacation or long journeys. One of the main reasons is that they don't trust other people to look after their pets with the same care and diligence that they would. Many people consider their pets to be part of the family, so it makes sense that they wouldn't want to leave their pets in somebody else's care. Another common reason that people bring their pets along on holiday is that they want to make memories and share experiences with them.
Pros and Cons of Travelling With Pets
Naturally, there are pros and cons associated with travelling abroad with one's pet, so let's go over these wefore moving on to how you can travel with yours so that you can make the best decision for you (and for them). In some situations, bringing a pet along is inappropriate and unsuitable. In others, leaving your pet at home might be a bad idea.
Pros
Sharing enjoyment with pets

. When you travel abroad with your pet, you get to share the enjoyment with them. Making memories and experiencing new things is a lot more fun when you have your furry friend accompanying you; you get the familiar comfort of a beloved pet along with the euphoria of experiencing new things in life.

Travelling is easier than ever

. Travelling with a pet is easier than ever before. In fact, nowadays travel agencies and companies actually offer packages tailored to pet owners. Many hotels also allow pet owners to bring their pets along with them. With this said, if you intend to  travel with your pet, make sure that you reach out to your hotel before arriving and confirm that they allow pets to stay as well.

Not having to worry

. When you take your pet abroad with you, you don't have to worry about them back at home. You can focus on enjoying yourself and having a good time because you know that your pet is safe. If you go abroad or travel a long distance from home without them, you may end up constantly worried about them.
Cons
Travelling is expensive

. Travelling isn't cheap even in the best of circumstances. While holidaymakers and hotel owners are making it easier than ever before for pet owners to travel abroad with their pets, they certainly aren't making it cheap. However, many people's tolerance for how much they're willing to spend on luxury goods and experiences is increasing (due to wider availability), so many people don't even bat an eyelid at exorbitant hotel prices.

Weighing you down

. One problem that you're bound to experience when travelling with a pet is that they tend to get in the way. This is especially true if you are bringing a cat since cats have to be carried around in carriers and can't walk on a leash like a dog can.

Limiting your travels

. Bringing a pet along with you can also limit your travels. You might not be able to go to certain restaurants, museums, or other attractions. You may also scare your pet by bringing them. People

have a tendency to anthropomorphize their pets

; just because you want to bring your pet, that's not to say that they want to come, or want to leave their home. Bringing your pet with you could cause them significant distress, which can affect your vacation.
Tip #1. Budget Your Trip Carefully
As mentioned previously, if you intend on travelling with a pet, you should be aware that it can be expensive. However, it's very likely that this won't be a big concern for you, since according to the survey results chart from Compare the Market Pet Insurance below, people willingly spend a fortune on their pets. Even if you are prepared to spend a lot of money on your pet, it's still a good idea to budget your trip; otherwise, you could find yourself wasting money on unnecessary things.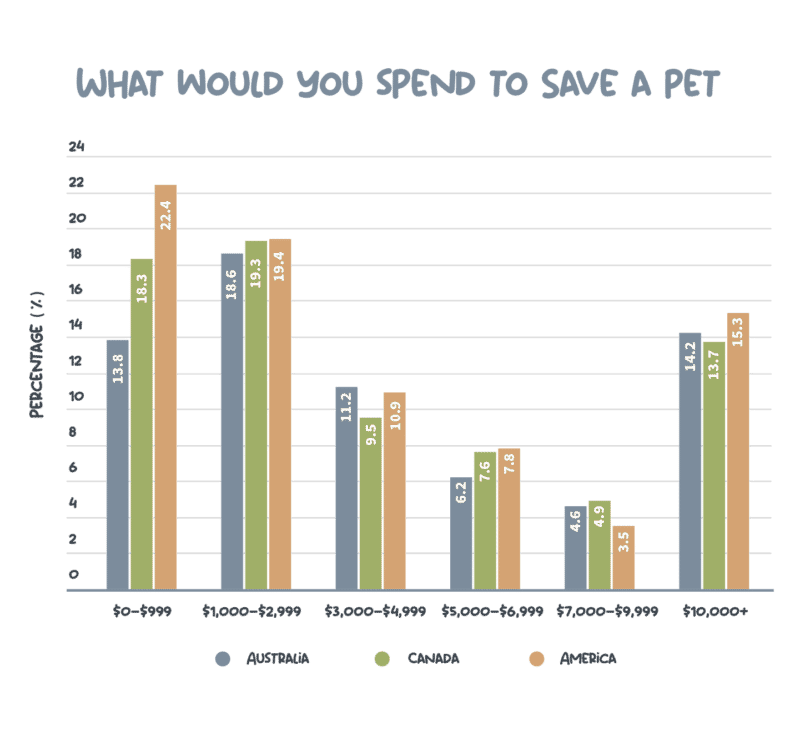 Tip #2. Plan Your Journey Meticulously
If you intend on taking your pet away with you, you need to plan meticulously. Every detail of your trip needs to be carefully thought through because animals can't understand and rationalise things in the same way that human beings can. Failing to prepare for your trip could cause your pet a lot of stress, which could manifest in health problems. Trying to get your pet to a vet in a foreign country can be a nightmare, so plan carefully so that you can avoid needing to.
Tip #3. Consider Pet Medication
Lastly, you may want to consider visiting your pet's veterinarian and asking them for some kind of sedative pill. Your vet can administer the pill to your pet or you can do it yourself. These pills will help your pet to relax, which will make travelling a lot easier. Cats and dogs tend to panic when they are locked in the back of cars or brought on planes. However, never administer a sedative to your pet that hasn't been prescribed by their veterinarian.
More and more people are starting to take their pets away with them. If you are considering taking yours away with you, then you need to make sure that you carefully plan your trip. Planning your trip will minimise the stress that your pet faces as a result of you taking them in the car, on a plane, or on a ship with you, making the trip easier for everybody involved.