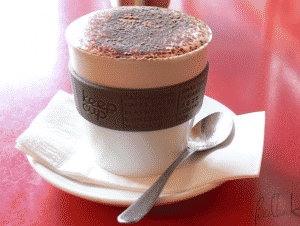 Sugar, sweeteners, and syrups that you add to your coffee spike your blood glucose levels and may create a greater chance of you getting heart complications. People consider honey, various other natural sweeteners as healthier options but they are also considered as sugar.
Drinking coffee can not only help you, soldier, through the day without falling asleep but also has many health benefits. According to doctors people who drink coffee regularly have a reduced risk of kidney disease, respiratory disease, and cancer. 
So with more and more people starting to enjoy a nice cup of hot or iced coffee, Pick and Brew brings to you 6 healthier options to make your coffee flavorful and enjoy it without worrying about the harms caused by sugars.
Coconut cream:

This cream is the natural cream that appears on the top of any can with full-cream coconut milk. Cream of the coconut provides you with a sweet taste and creamy texture, enhancing your overall coffee experience. Coconut cream is healthy fat named medium-chain triglycerides. They help in weight loss thereby reversing the effects of sugar. 
Vanilla extract:

Vanilla extract is one of the fondest ingredients of all the vanilla latte drinkers out there. As vanilla is just a flavor and not sugar, it can be added to your coffee to add a little bit of tweak in the taste that you have been looking for all along. Vanilla extract simply contains zero calories; vanilla syrup contains sugars in high amounts so it is better to stick with the extract. You can add two-three drops according to your taste or you can start with one drop and always add more because the vanilla extract is a strong flavor.
Cinnamon:

It provides a great way to flavor your coffee without increasing your sugar intake. You can use ½ teaspoon of cinnamon powder to flavor your coffee. Cinnamon is also considered a strong spice so you can add it according to your taste and flavor preference. You can also add the cinnamon flavor to your coffee just by storing cinnamon sticks in the same jar as the coffee powder or beans. It also provides more benefits like increasing your body immunity. It is also observed that people with regular spice intake can increase their insulin cell sensitivity thereby reversing the effects of sugar.
Coconut flakes:

These ground unsweetened coconut flakes can become a great substitute for the sugar in your coffee as they contain a naturally sweet flavor that enhances the taste of your coffee. They can also be a great replacement for coconut oil for all bulletproof coffee lovers. As coconut oil contains a lot of saturated fats it can be harmful to your body. You can recreate the same flavor by adding coconut flakes.
Cacao Powder:

Adding a spoon of cocoa powder to your mug of coffee can get you to the best flavor of the coffee possible. The combination creates a caffeine rush in your body that is required to get by throughout the day. You can create your mocha by adding cocoa to your coffee. Cocoa beans are also quite rich and you can grind them yourself to ensure 100 percent purity. It is also known to have many health benefits like improving the blood flow throughout the body, help in lowering blood pressure.
Hazelnut Oil:

Hazelnut provides a nutty and delicious flavor to your coffee, which makes it a very popular ingredient these days. Making coffee using Hazelnut oil is simple, you just add a few drops according to your taste and enjoy the heavenly coffee

.

As the extract is quite strong you can try to make it a few times just to ensure your perfect flavor profile. Hazelnut also has many health benefits like lowering the level of cholesterol in your body thereby increasing heart health. The oils are also known to provide anti-aging effects to your body.
Pick and brew helps the coffee-loving people with everything relating to coffee. These natural ingredients provide you with an amazing guide to create your coffee. Life is too short to stick by the rules, mix and match with different flavors according to your taste, and create your coffee with all the various flavors the world has to offer.