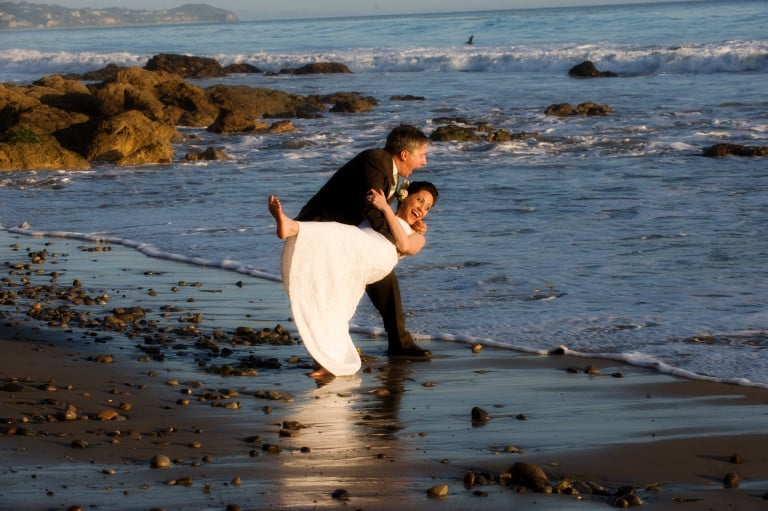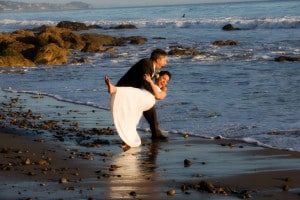 Every bride-to-be dreams of a perfect wedding on a beautiful beach with a white, flowing gown. The sound of the ocean waves, the beauty of the sunset near the water, the feeling of warm sand, and the creative themed ideas with seashells and flip flops all combine to create an unforgettable wedding experience.
If this sounds like a perfect day of wedded bliss, here are a few creative ideas to consider when planning a beach wedding.
1. Set the Tone in Advance with Beach-Themed Wedding Invitations
Choosing the right wedding invitations will let your guests know to prepare for a beach-themed wedding well before the big day arrives. Guests can bring proper attire and sunscreen, which will keep the entire experience more enjoyable for everyone.
As you prepare the invitations, include a note to set clear expectations for your guests. Make suggestions about what to wear, and remind them to bring sunglasses and umbrellas in case they're needed. Your guests will appreciate the reminder, and properly prepared guests will keep your wedding ceremony running smoothly despite any unexpected weather changes.
2. Create a Unique Touch by Combining Seashells with Light & Airy Flowers
Every bride needs a bouquet, but don't limit your floral decorations to only flowers. Pearl strands, white lace, and light-colored decorative seashells all combine well with light and airy flowers to make a gorgeous bouquet or corsage. Be sure to use light-weight shells to avoid weighing down the tuxedo lapels and know that artificial flowers are a better choice for withstanding extreme outdoor conditions.
3. Plan to Get Wet
Since the weather is an unpredictable element of outdoor weddings, account for rain in your preparations and plans — and prepare to get wet. Planning ahead will turn an afternoon rain shower from an unwanted nuisance into a creative photo opportunity. To best prepare for rain on your special day:
Wear waterproof makeup; your photographer will thank you.

Have covered shelters or canopies nearby. If there is no rain, these can also provide welcomed shade to keep guests from getting overheated.

Use waterproof signage and decorations. Instead of using paper streamers or signs, use distressed wood signs, fishing nets and seashells to create a beachy vibe that can withstand a few showers.

Choose a dress and accessories that can withstand the precipitation. Careful planning of your attire can give your photographer the freedom to grab some

amazing shots in the water

without ruining your wardrobe.
4. Use Sand for More than Just the Beach Floor
One of the biggest draws to beach weddings is warm sand and shells, so make them a focal point for your wedding. Use sand and shells in glass containers for adorable table centerpieces. Sand can also be used with battery-operated candles in paper bags for mood-setting luminaries. As a memorable gift for your bridal party, glue sand and other beach-themed items to a picture frame or wooden key chain for a cute DIY wedding party gift.
Combine Different Beach Elements to Create the Perfect Themed Wedding
The allure of a beach wedding includes elements of the sights, smells, and sounds of a memorable waterfront experience. By planning ahead, you can include the colors of the shells and the sand, the refreshing feeling of the warm sun and splashing waves and the picturesque backdrop of the beachfront to create a wedding day experience you'll treasure for years to come.