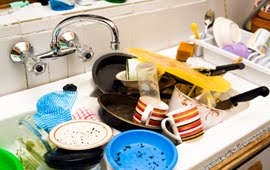 Regardless of the kitchen space in the house, big or small, it's vital to maintain a clutter-free environment for the family's safety from the sharp, point, and bulky kitchen essentials. Moreover, an organized kitchen with regular cleaning conserves the area's cleanliness for a healthy and sanitized food preparation setting. 
Thus, investing in innovative kitchen storage allows you to achieve an orderly kitchen. Besides, today's kitchen innovations entail affordability, quality, style, and make use of the available space in the kitchen, which are beneficial to your kitchen and budget. 
Now, whether you're a first-timer or currently redesigning your kitchen area, these innovative storage solutions will pave your way to a clutter-free kitchen environment. 
Ready to Assemble Cabinet
The ready-to-assemble cabinet, also known as an RTA cabinet, is becoming popular in both professional and casual kitchens. Why? Because this type of kitchen storage allows you to select your desired specification, from style and size to shelves and drawers. What's more practical about it is it's affordable yet made from high-quality materials, and purchasing it from online kitchen cabinets would wrap everything up!
Custom Pantry
Do you have a hard time finding a jar of spice or canned tomatoes necessary for your recipe? Maybe, lose track of where you put the cheese and found it later when a pungent smell permeates the room. Well, you might need a custom pantry as a storage solution. It includes custom shelves and drawers to cater to various goods that allow you to see and reach them easily. You can either select an open-type or close-type pantry. 
Utensil Drawer
Keeping the utensils exposed in the kitchen potentially harms your kids when they accidentally reach them and attracts insects like cockroaches, which bring germs that cause health risks. Therefore, a utensil drawer organizes and hides your silverware and servewares. It is a built-in cabinet that doesn't consume wide space. 
Under Sink Drawer
Sometimes, homeowners leave the underneath the sink empty and void, which becomes the breeding ground for creepy crawlies. But, putting an under sink drawer will make use of the dark space. It's a pull-out type of drawer where you can place cleaning tools, insecticides, dishwashing liquids, etc., to keep them away from children. 
Pull out Shelves
Pull out shelves are suitable for holding various sizes of pots and pans. It allows you to have easy and fast access to cooking pans whenever you need them right away. Furthermore, it keeps your pans from dust and rust. 
Pullout Trash Can
Cleanliness is one of the most significant aspects of your kitchen. With that said, a pullout trash can will help you take the garbage out of your sight. Since the trash bins aren't exposed, your kitchen will be insect-free, with no flies that annoy you when you cook. But remember, change the trashbag daily so that the malodorous smell won't pervade the kitchen. Nobody likes a smelly kitchen, right?
Appliance Garage
Typically, an appliance garage is built in the end corner of the countertops. The door that hides the appliances is connected in the frame using hinges. You can place your blender, food processor, stand mixer, immersion, blender, and coffee maker in there. Also, it promotes clutter-free countertops that provide you a wide area for food preparation. 
Baking Sheet Drawer
If you love baking but don't have adequate space for baking tools such as baking sheets, then you must include a baking sheet drawer in one of your cabinets. It's a divided drawer wherein you can muffin tins, broiler pans, cookie sheets, and cooling racks, which usually use up space when just left on countertops. 
Dish Drawer
A dish drawer is a deep and sturdy storage solution that is excellent for heavy and larger quantities of servewares and kitchen tools. Since it's a divided-type of a drawer, you can easily organize the dishes' placements, from smallest to largest, or regular to frequently used items. Another great thing about it is that it can be easily accessed, even the smallest member of the family. It also keeps the kitchen wares safe whenever there's an earthquake.
Kitchen Mail Station
The kitchen mail station is a portion in the kitchen where cookbooks, notes, and mail are kept and organized. When you forgot the recipe or the ingredient while cooking, you can simply visit this area and look for the book.  It also prevents precious cookbooks or notes from being drenched with water, wine spillage, and food crumbs. Most importantly, you can stay at this station and read some books while you're waiting for the food to be cooked. 
Takeaway
In a nutshell, a clutter-free kitchen environment means that you are an organized and responsible homeowner who values the safety of the whole. In doing so, not only are you able to provide safe and healthy food, but you'll also have the aesthetics for an impressive kitchen. Hence, in selecting the right storage for your kitchen, you must consider what you and the kitchen tool need and avoid installing such kitchen extensions beyond your budget.