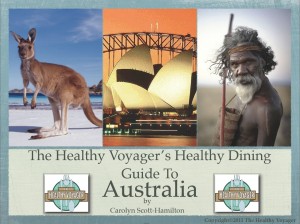 The Healthy Voyager International Healthy Dining Travel Guide Series is essential for any special diet traveler. Whether you're vegan, gluten free, diabetic or just looking to stay healthy while traveling abroad, these individual country guides will help you navigate the culinary waters in foreign countries.
This Australian travel guide includes:
* A summary of Australia's culture and cuisine
* A glossary of common Australian dishes
* Listings of local produce and food
* Simple snack and entree recipes that can be made in your hotel room from local ingredients. Suitable for all special diets.
Compact and exactly what any restricted diet traveler needs to explore the world healthily and happily! Get your Guide Today for Only $1.99! (Once you've completed your purchase, you will be given a link to automatically download your ebook)