Who doesn't love apple pie? Who doesn't love spring rolls? Well, you're going to love this tasty twist on apple pie featuring deliciously sweet Opal Apples! Perfect bites sized desserts that go well as sweet finger foods at a party with a vegan caramel sauce dip or as a fabulous dessert served a la mode with creamy vegan vanilla ice cream and a dollop of vegan whipped cream. Yum!
Normally folks like to bake with Granny Smiths but I have fallen in love with Opal Apples as they are delicious, non-gmo, sweet and crispy and non-browning! Yum! Plus, they give back to the community and you can't beat that!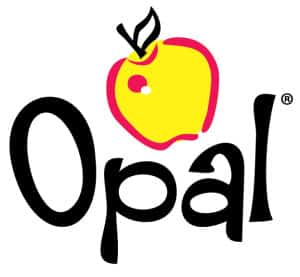 I hope you enjoy my Vegan Apple Pie Spring Rolls Recipe!
6 large Opal Apples
1/2 teaspoon finely grated fresh lime zest
2 1/2 tablespoons fresh lime juice
1/4 teaspoon cinnamon
1 1/2 teaspoons vanilla extract
2 tablespoons raw granulated sugar
12 (7 or 8-inch square) spring roll wrappers, room temperature
1/2 cup vegan butter, melted
Using the 1/8-inch julienne blade of a mandoline or other manual slicer, cut unpeeled apples into julienne strips. In a bowl toss apples with zest, juice, cinnamon, vanilla and sugar and drain in a colander 20 minutes.
Remove wrappers from package and carefully peel off 1 wrapper, covering remaining stack with a dampened kitchen towel to prevent drying.
Preheat oven to 425 degrees.
On a work surface arrange wrapper with a corner pointing toward you and lightly brush with some butter, leaving top corner dry. Arrange 1/4 cup shredded apple on wrapper in a 6-inch long loose pile from left to right corners. Turn bottom corner up to cover filling and gently tighten roll, pressing it toward you. Fold right and left corners toward center and roll away from you as tightly as possible without tearing wrapper. Seal dry corner to spring roll with some more melted butter and cover loosely with plastic wrap. Follow these steps for the remaining spring rolls. Also, they may be prepared up to this point 4 hours ahead and chilled, covered.
Place the finished banana rolls on a lined baking tray and brush tops and edges with butter.
Bake for 5-7 minutes on the baking tray and serve when golden brown.
Serve with vegan vanilla ice cream, vegan caramel sauce and/or whipped cream and enjoy!
* This is a compensated campaign in collaboration with Opal Apples